Serve better with ADI
To protect your unique health care division from litigation over abuse, negligence, recklessness or lax care, you need background screenings focused on the diverse needs of the health care industry. From your executive & administration offices, your community volunteers to your professional staff & medical providers, it is important to understand the specific needs of your individual hiring process.
Advanced Data International understands the great responsibility that rests on your shoulders to maintain not only a safe and secure working environment but a safe and secure health care environment; we're dedicated to making that a reality.
How it works
Advanced Data International will provide a fully comprehensive screening process that will help manage your hiring risks by improving the safety of your staff, safety of your patients and protecting sensitive medical information. Advanced Data International will provide efficient screening with fast results as you strive to provide exceptional & compassionate care to those who seek your aid.
Taken your MED's?
E-Verify (I-9 Form)
Criminal Record Check
Sex Offender Registry Check
Court House Records
Fingerprinting
SSN Verification
Employment Verification
Education & Credential Verification
Address History
Drug Screening
Credit Checks (Consumer & Commercial)
*The reports in bold are available internationally
If you need a report not listed, our Customer Service Department will work with you in obtaining such records
---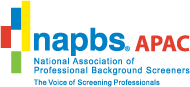 ADI is NAPBS-certified, which means we're committed to fair, accurate and compliant reporting.
Learn more about the NAPBS →